ODINAFRICA-IV: Work plan: WP1
WP1: Networking, Coordination and Management
The main objective under this Work Package is to ensure that the project activities are implemented in the most efficient and coordinated manner.
National coordination: National Coordination Committee
The establishment of a national coordination committee (see 4.3) bringing together data generators and potential users of the NODC products will be important activity in the next phase. The committee should have clear terms of reference (to be determined by the partner country), and hold regular meetings. It will assist in identification of national data sources and priority products, and ensure that the data and information flows to the NODCs. It will be chaired by the Head of the Partner Institution (host to NODC). It is especially important to involve marine research and academic institutions, meteorological agencies, fisheries and Marine Protected Area management agencies. The committee will recommend the best management structures to be put in place at the national level
Regional coordination: Regional Coordinators
At the regional level, the project will be managed by 5 Regional Coordinators covering the LME regions (GCLME, CCLME, BCLME, MEDLME, ASCLME) as indicated in Figure 6 below. This will enable the increased collaboration with other regional programmes, especially the GEF funded LME projects.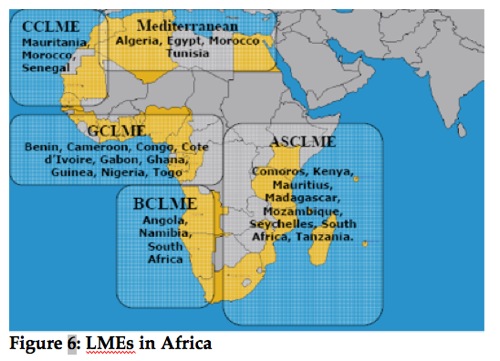 Pan-African level coordination: Project Steering Committee
The Project Steering Committee consists of the chairs of IOCEA, IOCWIO, IOC Vice Chair for Region V, representative of IODE, 5 Project Regional Coordinators and Project Manager. The PSC will meet annually to review and approve progress reports, work plans and budgets.
Project Management: Project Manager and Secretariat
The day-to-day running of the project will be the responsibility of the Project Manager assisted by the Regional Coordinators and the IODE Secretariat. The Project Manager will be based at the IOC Project Office for IODE (Oostende, Belgium), which also hosts the IODE Secretariat. This will minimize cost and provide the best possible secretariat support to the Project Manager and to the Project. This will also allow for better communication and outreach services to all partners in the project as the Project Office hosts all web sites and has broadband Internet. It will furthermore facilitate interaction between the Project Manager and trainees of courses as these will, at least initially, be held mainly at the Project Office (OceanTeacher Training Academy).
Continue to "WP2: Strengthening of national marine data and information management capacity"