The objective of OceanTeacher is to provide training tools for Oceanographic Data and Information Exchange. These tools are used during IODE Training Courses but can also be used for self-training and continuous professional development. The Ocean Teacher web site is comprised of two components:
| | |
| --- | --- |
| The OceanTeacher Digital Library | The OceanTeacher Classroom |
| | |
(click on the image to visit the site)
The OceanTeacher Digital Library contains a range of marine data-management and information-management materials, including software, quality control and analysis strategies, training manuals, and relevant IOC documents. The Kit provides a broad spectrum of background information on global data and information archiving activities, specifications for data storage in standard formats, and the software tools to perform many quality control, sub-setting, and analyses techniques.
The OceanTeacher Training Curriculum is a collection of outlines, notes, examples, and miscellaneous documents used in conjunction with the Resource Kit to organise training programs in marine data and information training. These training programs are designed for the instruction of ocean data and information managers of newly established NODCs, DNAs and Marine Information Centres.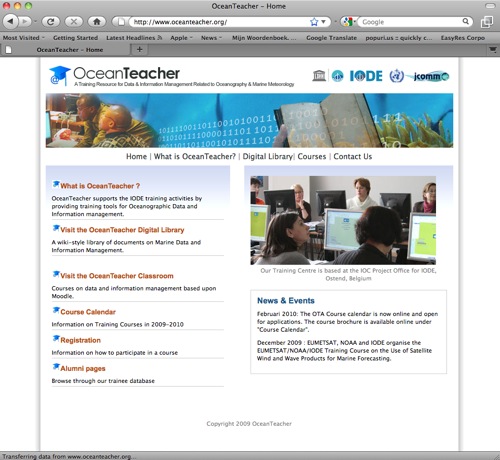 The OceanTeacher training system is used mostly during "live" courses. These are organized either at the IOC Project Office for IODE in Oostende, Belgium, or they are hosted by other Organizations or Member States.
Every year approximately 200 students are welcome at the IOC Project Office for IODE in Oostende, Belgium.
The IOC Project Office for IODE receives most of its funding from the Government of Flanders. This support complements the project support allocated through the FUST projects (ODINAFRICA, OceanTeacher Academy, Caribbean Marine Atlas, ...)
The OceanTeacher Homepage