One of the problems that occurred in ODINAFRICA-III was the considerable difference in level of capacity between the 25 partner institutions. These differences were due to a variety of reasons such as unsuitable choice of host institution for the NODC or Marine Information Centre, inappropriate choice of trainees, insufficient institutional support for the NODC or Marine Information Centre, insufficient staff (lack of critical mass) to deal with staff turn-over. The combination of these factors resulted in three result groups: (i) active, advanced centres; (ii) middle group; (iii) poor performing centres. The largest group was the middle group. (See Figure 5).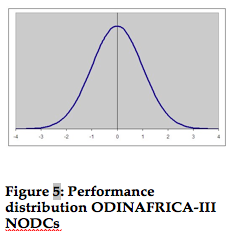 Within the framework of ODINAFRICA-IV a first activity will focus on the assessment of all ODINAFRICA-III partner institutions. This assessment will be based upon the Terms of Reference of National Oceanographic Data Centres as detailed in the "Guide for establishing a National Oceanographic Data Centre, 2nd revised version" (available from http://www.iode.org/mg5).
The assessment will be carried out partly through a questionnaire and partially through expert visits. The assessment will result in a formal report that will include detailed recommendations for remedial measures as required. Participating institutions will be invited to undersign a commitment to achieve a minimal level of performance.
In this regard it is also worth noting that IODE-XX (May 2009) will address the issue of a "quality seal" or "minimum level of performance": for NODCs and Marine Information Centre to ensure that the network of NODCs and Marine Information Centres provides the highest possible level of service. This quality assessment will also be applied to the ODINAFRICA NODCs and Marine Information Centres.
The best performing NODCs and Marine Information Centres will furthermore become "Centres of Excellence" that will play a key role in training activities planned within ODINAFRICA-IV (this activity will be related to the OceanTeacher Academy project – see 5.2.2.3).
Also new partners (IOC Member States that did not participate in ODINAFRICA-III) will require assessment. This will assist the countries in identifying the most suitable host institution for the NODC and Marine Information Centre but the assessment will also need to identify the desired level of expertise (and associated product and service provision). This will then be utilized to plan the required capacity building activities.
Continue to the "Work Plan"