The Ocean Data and Information Network for Africa (ODINAFRICA) brings together more than 40

marine related institutions from twenty-five countries in Africa (Algeria, Angola, Benin, Cameroon, Comoros, Congo, Cote d'Ivoire, Egypt, Gabon, Ghana, Guinea, Kenya, Madagascar, Mauritania, Mauritius, Morocco, Mozambique, Namibia, Nigeria, Senegal, Seychelles, South Africa, United Republic of Tanzania, Togo, and Tunisia).
With the support of the Intergovernmental Oceanographic Commission of UNESCO and the Government of Flanders (Kingdom of Belgium) the network strives to address the challenges faced in ensuring that ocean and coastal data and information generated in national, regional and global programmes are readily available to a wide range of users in an easily understandable format.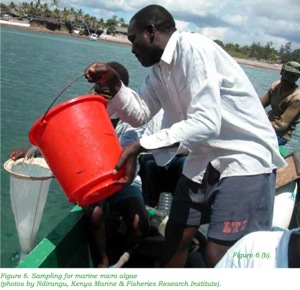 The earlier phases of ODINAFRICA enabled the participating member states to get access to data available in other data centres worldwide, develop skills for manipulation of data and preparation of data and information products, and develop infrastructure for archival, analysis and dissemination of the data and information products. The member states also developed further the African network of sea level stations, bringing the number of operational tide gauges along the African coast to more than 40.
The fourth phase of the project (2009-2013) will focus on strengthening the Pan-African network of National Oceanographic Data and Information Centres - NODCs, and marine related institutions as a sustained mechanism for application of data, information and products for marine and coastal management in Africa.
The expected outcomes of ODINAFRICA-IV will be:
linking of African oceanographic data centres in the IODE Ocean Data Portal (the Ocean Data Portal aims at providing seamless access to data holdings maintained by NODCs and other data providers around the world: see http://www.oceandataportal.org)
linking African marine libraries to the OceanDocs e-repository (OceanDocs aims at making a wide variety of research publications and grey literature available in full-text: see http://www.oceandocs.net) and to make available library catalogues of marine libraries in Africa through the world wide web
further development of the African Marine Atlas. The African Marine Atlas provides substantial maps, images, data and information to coastal resource managers, planners and decision-makers from various administrative institutions and specialized agencies in Africa  (see http://www.africanmarineatlas.net/
promoting and mainstreaming the use of oceanographic data and information products to assist with the sustainable use and management of the coastal zone.
The total budget of the ODINAFRICA-IV project is US$ 7,309,314. The contribution by the Government of Flanders (FUST) will be US$ 3,545,080; the counterpart contribution of UNESCO/IOC will be US$ 181,000 and the national partner contributions (of the participating countries) will be US$ 3,583,234.
The project started in August 2009 upon the recruitment of the Project Manager (Mr Mika Odido).
Continue to find out more about ODINAFRICA-IV