Background
The International Hydrological Programme (IHP) is the only intergovernmental programme of the UN  system devoted to water research, water resources management, and education and capacity building. Since its inception in 1975, IHP has evolved from an internationally coordinated hydrological research programme into an encompassing, holistic programme to facilitate education and capacity building, and enhance water resources management and governance. IHP is implemented in six-year programmatic phases, currently in its eighth phases (IHP VIII).
IHP's primary objectives are:
To act as a vehicle through which the Member States, cooperating professional and scientific organizations and individual experts can upgrade their knowledge of the water cycle, thereby increasing their capacity to better manage and develop their water resources
To develop techniques, methodologies and approaches to better define hydrological phenomena
To improve water management, locally and globally
To act as a catalyst to stimulate cooperation and dialogue in water science and management
To assess the sustainable development of vulnerable water resources
To serve as a platform for increasing awareness of global water issues.
IHP-VIII: Water security: Responses to local, regional and global challenges
Aligned with the eight-year Medium-term Strategy of UNESCO (2014-2021), the eighth phase of IHP (IHP-VIII) was prepared through a comprehensive consultation process with the Member States. IHP-VIII aims to improve water security in response to local, regional, and global challenges. Multidisciplinary and environmentally sound approaches to water resources management are sought. The role of human behaviour, cultural beliefs and attitudes to water, and socio-economic research to better understand and develop tools to adapt to changing water availability are some of the issues to be addressed.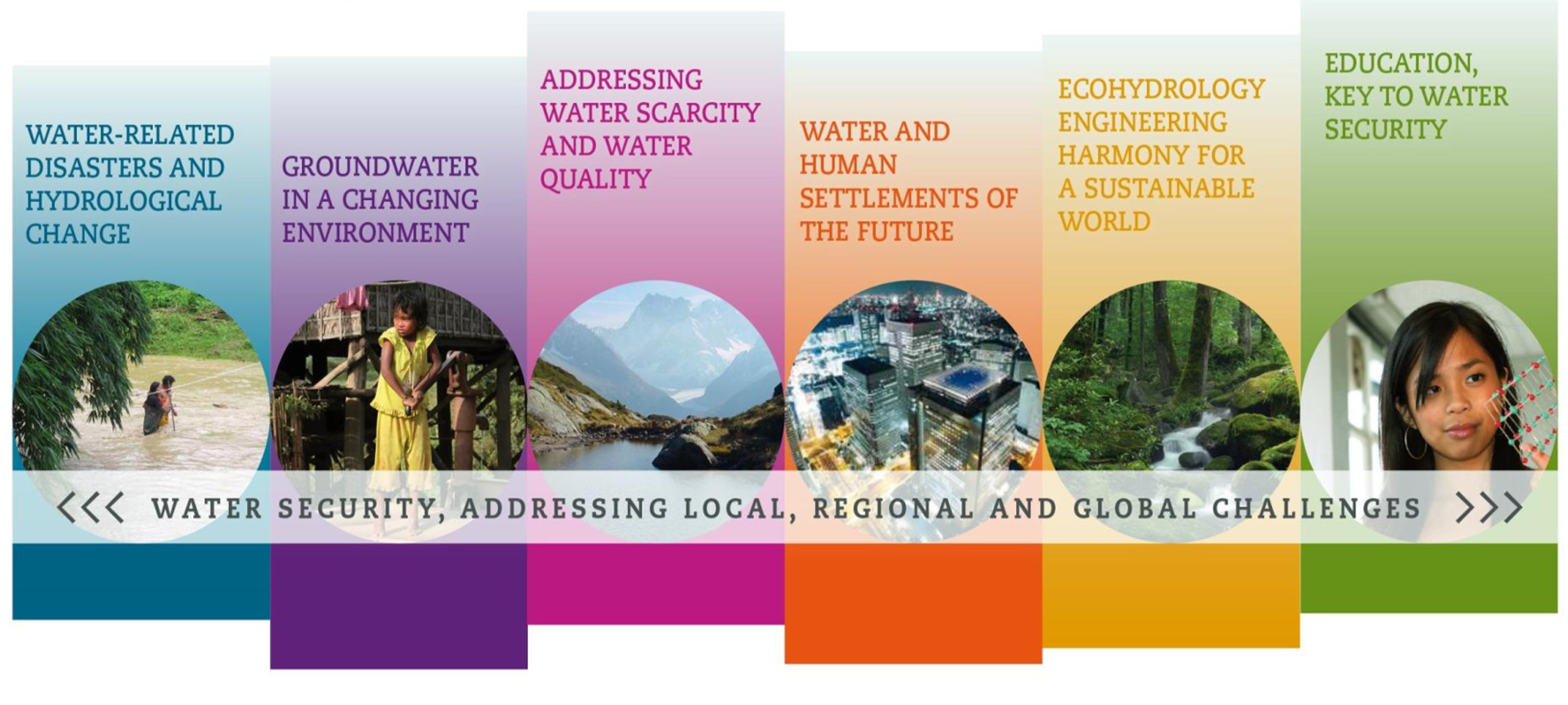 IHP-VIII brings innovative methods, tools and approaches into play by capitalizing on advances in water sciences, as well as building competencies to meet the challenges of today's global water challenges. National Committees, UNESCO centres and chairs play an important role in this process.
Based on the priorities and needs of Member States as identified at the Nairobi meeting of the Working Group, the IHP-VIII focuses on six thematic areas:
Water-related Disasters and Hydrological Changes
Groundwater in a Changing Environment
Addressing Water Scarcity and Quality
Water and Human Settlements of the Future
Ecohydrology, Engineering Harmony for a Sustainable World
Water Education, Key to Water Security
To achieve this strategic plan, IHP-VIII focuses on mobilizing international cooperation to improve knowledge and innovation to address water security challenges, strengthening the science-policy interface to reach water security at local, national, regional, and global levels and developing institutional and human capacities for water security and sustainability.